The Weed Man Cape Cod, MA team lives and works in the communities that we serve. Offering quality service is our main goal for our customers and neighbors. Meet your Cape Cod, MA Weed Man team of lawn specialists who are professionally trained to manage all of your lawn care needs. We're happy to introduce ourselves!
Meet Candace and Keith McKeone! Owners of Weed Man Cape Cod & South Shore, MA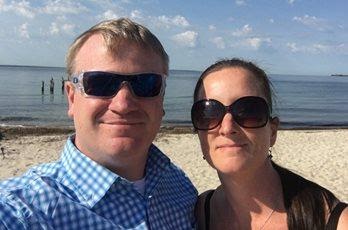 Candace and Keith McKeone have been the proud owners of Weed Man Cape Cod since 2013 and have worked hard to establish a strong foundation of quality service on the lawn, top notch customer service and a working environment that creates a sense of teamwork, unity and family.
As Cape Cod locals, they value their community responsibility and network.  As the business succeeds and grows, the community and its residents succeed as well.  Candace and Keith are passionate about making an impact in the lives of those in need within their Cape Cod community.  They have contributed both their time and financial resources to local initiatives, such as becoming foster parents, coaching youth sports teams, contributing to programs that support our veterans and active military, as well as raising awareness and resources for Cancer research.
Their love for the lawn care industry and their customers is only trumped by their deep love for one another and their families.  In their spare time they love spending time on the water and are avid deep-sea scuba divers.  Keith is still chasing the dream of one day playing professional lacrosse, but in the meantime,  he continues to perfect his skills in a local "old man" beer league.  Candace loves to get her Zumba and Step Aerobics on with her friends and family! 
Like most in life, they have had their fair share of setbacks, both personally and professionally.  But much like the rest of the State of Massachusetts, they are incredibly resilient and take life's challenges head on with a no-quit mentality.  This passion and drive translates to their philosophy on success in this business.  We asked them the following question: When Weed Man is a success…what does that look like?  Here is their answer: "Happy customers, employees caring for customers and concerned about results, providing a green and healthy lawn."
At Weed Man, our customers come first! We offer unlimited service calls, unlimited reapplications and products designed to give you the best results possible. Call (508) 420-4300 today for a free lawn care quote.